Welcome
Welcome to Advantage Gymnastics Academy. We invite you to join a community dedicated to making a positive difference in the lives of children. We teach mental and physical discipline through the sport of gymnastics, while helping to create healthy and happy athletes who soar with confidence through life.
Please explore our webpage to find the right program for your family. If you would like help navigating the best path for your child, please contact us.
Updated Mask Policy
Effective May 17th 2021
Read our newsletter to learn all about our new face mask policy.
Memorial Day
Closed for all classes!
Evening and Saturday Viewing schedule
Check to see when you can watch your child's classes
Week 1 May 3-8
Coach Emily, Coach Jade and Coach Keelie's classes
Week 2 May 10-15
Coach Ray's classes
Week 3 May 17-22
Coach Suzie, Coach Angela and Coach Emmie's classes
Week 4 May 24-29
Coach Kassie and Coach Sophia's classes 

Summer Camps
Every week through June 21st - August 20th
Camp Advantage
Register by May 15th for 10% off
Weekly pre-registration required
9am-Noon (Ages 3-12)
12:30-3:30pm (Ages 5-12)
Full Day (Ages 5-12)
$225 half-day / $450 full day
Email info@advantagegym.com with any questions
For our current Covid procedures read here.
Advantage Showcase
Saturday, June 19th 2021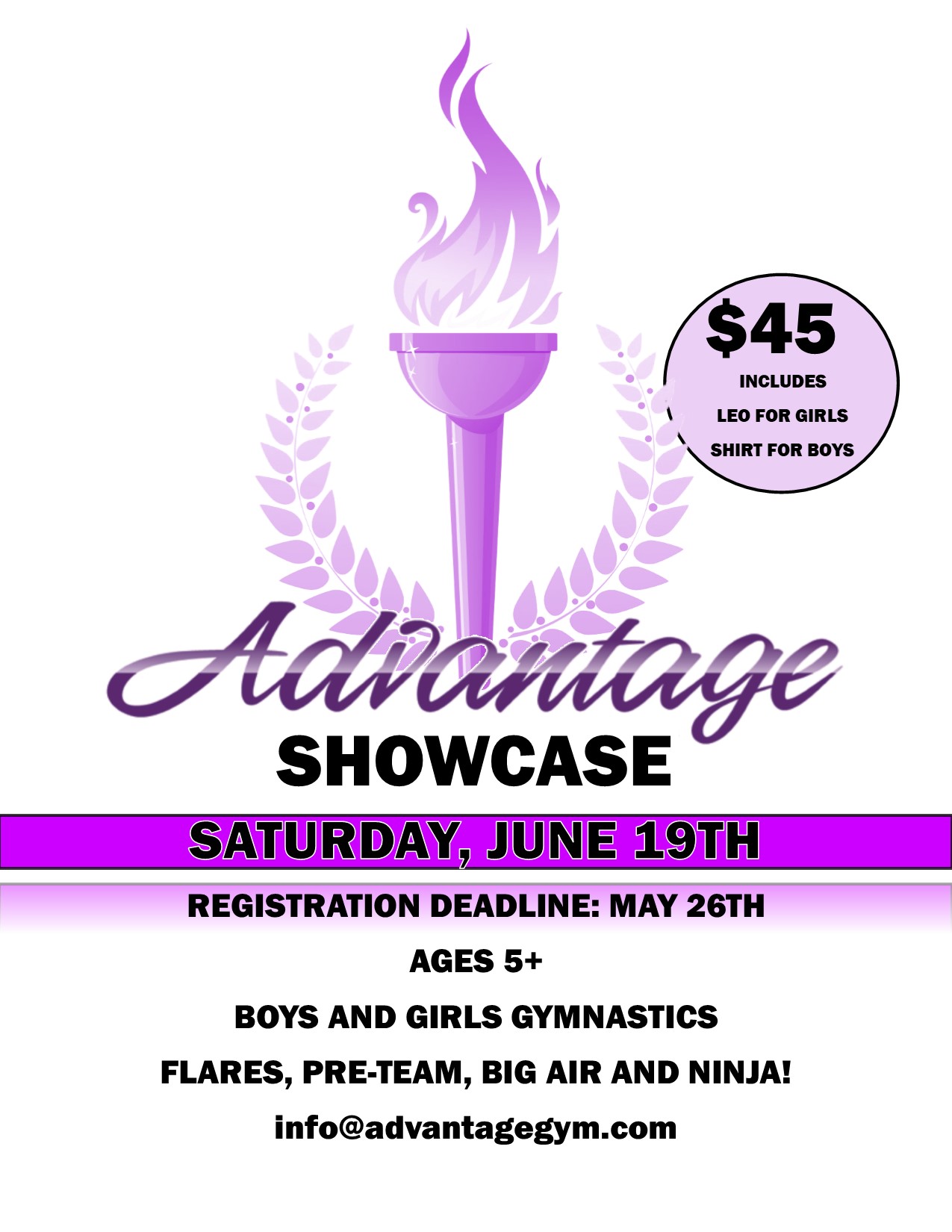 News
Dear Advantage Customers, Advantage Gymnastics Academy has followed the guidance provided by the CDC and our local officials throughout the last year, and we are very proud of our safety record.  Going forward, we will continue to adapt our policies as guidelines are eased and will communicate those changes [...]
Happy Spring!  We have a busy spring and summer filled with new classes and events at the gym.  Following is a sneak peek at what's happening this month.  There will be more information to follow. NEW CLASS / EVENT ADDITIONS Indoor Playground returns to our schedule on Wednesdays 12:00-2:00 PM [...]
We have been so happy to welcome some of you back to the gym this month. We look forward to being able to offer even more classes and activities in the weeks and months ahead. February is a busy month, filled with new options to have your kids back in [...]
CHECK OUT OUR CLASS OFFERINGS